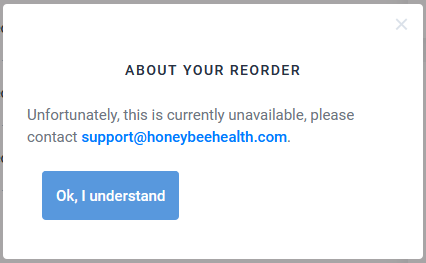 Most commonly, this error appears when the manufacturer on your previous order is no longer available, or the medication itself was discontinued or removed because of an FDA recall.
---
Tips for getting started on a new refill order
Try clicking on the Reorder button on a different order to see if that helps.
Search for your medication(s) on our homepage, honeybeehealth.com. Add the correct strength and quantity to your cart and proceed to checkout as you normally would. If you don't remember the name or strength of your medication, try looking on your pill vial or in your previous orders on your Account Dashboard.
If you are still not able to reorder, please send us an email for additional assistance.