Yes you can! You can designate one person to be the primary account holder, and create additional customer profiles for everyone in your family - including pets!
To get started, head on over to www.honeybeehealth.com, search for the medication(s), and add them to the cart. Click Checkout Now and, if you don't already have one, create an account. Once logged in to your account, choose who the medication is for: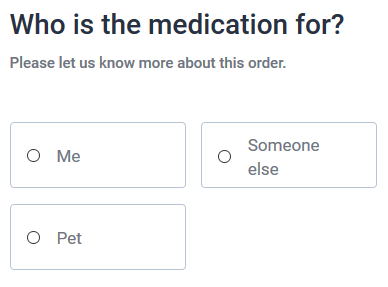 On the next page, enter in the customer's information, including name, phone number, date of birth, and gender. Once that's finished, you'll be asked to provide some health information, and provide us with details for obtaining the prescription. Then, select your shipping speed, enter the shipping address, and provide your credit or debit card information. Submit your order, and we'll take care of the rest!
Once you've placed your order, you can check the status of it through your account dashboard - we'll also send you updates to the email address on file. You can manage additional customers by visiting the Customer Profiles section of your account.